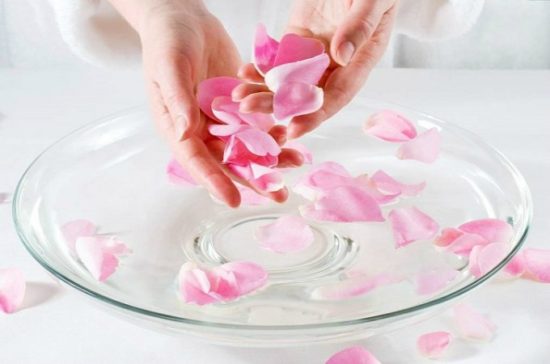 What are the benefits of rosewater for skin? Here is more on the benefits uses and effective recipes for skin care. Find out how to use rose water for skin lightening, acne, as a toner and cleanser.
Rosewater for Skin
Beauty started from the ancient times whereby women were treated and applied natural products extracted from plants. Natural products are the best to use on the skin since they are naturally removed with no chemicals additives. One of such skincare remedies is Rose water.
There are three types of roses which are grown to produce rose water, they include, Damask rose, summer Damask, and Autumn Damask which originated from the Middle East although with time has spread through Asian, European and North American.
Where can we get rose water from? Well, rose water is extracted from rose petals whereby the method of steam distillation is used to separate oil and rose water from the rose petal.
Benefits of using Rosewater for Skin
Rose petal does not only help in skin treatment it can also be used to make perfumes, medicine, and candy due to its aroma.
Rose water is very beneficial to the people suffering from foot athlete. Spray rose water in the affected area to cure athlete's foot.
People with itchy skin may benefit from rosewater. Apply rose water on the area to soothe the itchiness.
For women, it works as an anti-aging remedy. It encourages the regeneration of skin. You can use it on the face, to prevent the development of wrinkles.
Spray rosewater on your hair to get shiny radiant non-greasy hair.
Use rosewater to get rid of hair fungi and dandruff.
Apply rose water to heal wounds. You can also use it to soothe sunburns.
Rose water is a good remedy for acne and pimple breakouts. Cleanse your face with mild cleanser. Apply rosewater three times a day to get rid of acne for good.
Rose water has a good scent, therefore, suitable to make spritz sprays and perfumes.
Rose water also acts as a moisturizer. Apply is sparingly on your face and body after your bath.
Rosewater for Skin Care, Uses, Recipes
Rose water is very beneficial to any skin type. It not only helps to soothe the skin, calms irritation in the skin, balance the skin's PH, and also cleanses oily skin. Rose water is a great product for toning the skin. It gives one that beautiful glow on their healthy skin.
Recipe for making Rosewater for skin care.
Choose the petals you want to use to extract the rose water.
Place them in a large pan and put around 1.5 liters of water. Let the water and the petals boil for at least 10-15 minutes while mixing continuously
The petal starts to lighten dramatically, and this shows that the rose water is being removed.
After the water has boiled and changed to the color of petals used, strain the rose petals into a big bowl while you press on them to extract any leftover water.
Allow the water removed to cool before applying on the skin. This water can serve you for about a month when refrigerated.
Ensure you store your rose water in a container that is not clear so as to ensure the water remains healthy for the longest time.
Rose Water for Acne.
Acne is a skin condition affects almost everyone at one point in their lives. It causes the development of pimples and spots. Sometimes the skin becomes irritated and painful on touched. The areas which are commonly affected by acne are the face, back, and chest.
Rosewater is an excellent remedy for acne, and it works even better when used with lemon juice and glycerin. It contains phenyl ethanol which helps to prevent reduce the acne causing bacteria. When combined with lemon juice and glycerin it stops the growth of acne altogether leaving your face smooth and shiny.
Rose oil is paramount to treat redness which occurs on the face mainly happens when the face is strained especially caused by working too much. Apply rose oil on the face, and the results will be splendid.
While rose water is an excellent remedy to heal acne, it is advisable to not use rose water for rosacea. The rose oils will end up aggregating the condition making it difficult for the skin pores not to be treated.
Rosacea is a skin condition which appears on the face where the blood vessels on the face enlarge making the face and nose have an enlarged flush. Only use rose water for acne prone skin without rosacea
Rosewater for Skin Lightening
Can Rose water be used to lighten the skin? Judging from the number of people looking to lightening their skin complexion- fair is widely viewed as beautiful. Here is how to use rosewater for skin lightening
Add 1 gram of flour or sandalwood to make a skin lightener to 2 grams of rose water
Use the ingredients above to make a skin lightening face mask
Put rosewater into a spritz bottle and use it on your face for brighter complexion and toned skin
Combine rosewater with products such as lemon, honey and glycerin to get glowing skin. This remedy gives you the benefits of natural products without making you oily and greasy.
Rose water can also be used to make tea whereby you put handful petals of roses add them to boiling water, leave it to boil for about 15 minutes strain then drink at least two times a day.
This is vital in refreshing your body from inside making your skin appear rejuvenated.
Rosewater for Oily Skin/Skin Toner
Not only was it used as a skin toner, rosewater was also used as wrinkle checker and to tighten the skin pores. After making rose water store place some in a spraying bottle and use it on your face before you put on your make up. It will make your skin glow prevents an oily mess as it closes the pores of the skin. It is advisable to store rose water in the refrigerator to keep it fresh.
You can use Green Tea Toner in Place of Rosewater
Green tea is known to be an excellent ant dioxide, prevents wrinkles from appearing on the skin and maintains one's healthy skin. How does it work? It acts by locking moisture in the skin's cell hence removing excess oil from the skin.
It also destroys radicles that cause wrinkles therefore known to work as an anti-aging mechanism. Make green tea at home by adding two tea bags in boiling water, let it cool down then store in a spray bottle which is clean. Therefore spritz the substance on your face every morning.
Does rose water clog pores? Yes. For rose water to work as a toner, the rose water clogs the skin pores to prevent excess oil on the skin.
Moisturizer
Rose water is an excellent moisturizer. Combine it with glycerin, olive oil or almond oil to make a moisturizer.
Face Mist/ Spritz
Use rosewater to make a face mist to boost skin radiance. According to Solen Marie, a product development manager at Vital Science Corp which produces Dermagrow, toners restore skin's PH balance after the cleanse. This helps to increase the skin hydration levels. Examples of rosewater skin sprays and mists include; Shiseido Rosarium, Jurlique Rosewater Balancing Mist and Mario Badescu.
Rosewater Cleanser
Skin cleansing is a crucial part of taking care of our faces. Facial cleansing with rosewater can be very beneficial for people with dry skin.
To achieve good results do this on a daily basis. Use a good moisturizer or toner after you cleanse.
Simply dip a small piece of the cotton pad in rose oil
Wipe your face and around the neck
This will not only leave your skin looking great but also with a sweet smell
Rosewater Makeup Remover
You can use this natural remedy to effectively remove makeup.
Dip a cotton pad in the rose water gently rub it around your face
Wipe the area around the eyes gently and in an outwards direction
Make this even better by adding some coconut oil
It will remove makeup and leave your face feeling soft to touch
Use Rosewater to Getting Rid of Puffy Eyes
Get rid of puffiness and eye bags by;
Sprinkle some rose water on a cotton ball and place it on the eyes
You can also place a cold bottle with rose water on your eyes
Rose Water for Skin Irritation and Rash
After one has had a shave, rashes and irritations may occur. You can use rose water by spraying it on freshly shaven skin. It makes the skin smooth with a pleasant smell.
Drinking rose water for Great Skin
Taking rose water internally is very beneficial to our bodies. It helps hydrate the skin from the inside making one look and feel healthy.
Rose water acts as a stress remover. It helps one relax relief stress and depression by calming the nerves.
Another advantage of drinking rose water is that it can be used to treat stomach problems such as bloating and constipation. There is insufficient evidence on the use of rosewater for respiratory problems.
Best Rosewater for Skin
Organic rosewater
This is made from the process of steaming fresh organic rose petals. Organic petals are steamed so as to produce flower water and oil. The remaining water contains the essential oil called water flower. Water flower is gentle and can be used as antibacterial which is suitable for all ages.
Bulgarian rosewater
Bulgarian roses are organic roses which are hand-picked from the field in the morning while the dew is still on the petals. The petals are distilled in the steam then purified distilled water is passed through the fresh rose waters hence removing all the soluble elements.
During this process, there is condensed water which drips into the collecting vessel. This pure collected solution is excellent for drinking and applying on the skin.
Where to Buy Rosewater for Skin
One can buy Rose water at local beauty store, drugstores and online. Most people opt to make it at their home for their convenience.
Best Rose Water Brand
Common rosewater for skin brands include;
Gaia purity
Insta Natural
Poppy Austin
In Flora Botanica
Teddie Organics