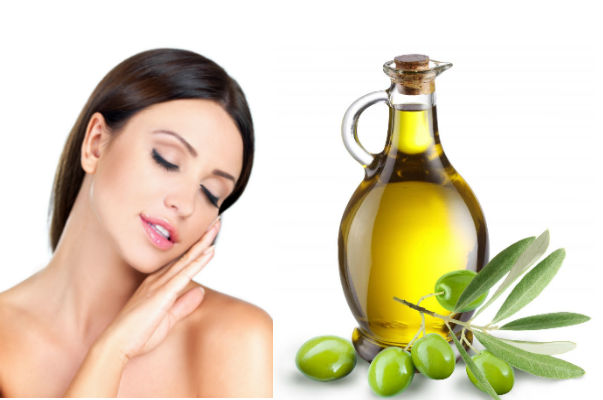 The use of olive oil for skin whitening offers benefits beyond a fair skin. Here is more on how to use olive oil to lighten skin.
Olive Oil for Skin Whitening
Due to factors like pollution, food habits, harmful rays, radiation, allergies, alcohol, pimples, stress and aging the look of our natural skin changes and becomes more pigmented, darker and blemish. Thus, a natural organic product like Olive Oil comes in handy in making our skin more lighter, flawless and younger looking.
Olive oil is monounsaturated oil drawn out of a small oval-shaped bitter fruit known as olive found in the Mediterranean areas and for many centuries was most popularly used for cooking and health benefits. However, as time went by olive oil has come to be a very popular skin and hair natural wonder used by most skin and hair care products around the globe. In this article, I will focus on olive oil skin whitening benefits, its types and some of the olive oil remedies for different glowing skin situations.
Is Olive Oil good for Whitening Skin?
Olive oil is rich in Vitamins, natural fatty acids, minerals, and antioxidants.  The natural organic properties help with brightening, lighting and protect your skin, hence, not only does it have skin beauty benefits but also health benefits like protection from UV light, or cell rejuvenation, etc.
Also, because it's all natural and organic it does an excellent job without harm to the skin which we don't see in other chemical manufactured skin lightening products on the market, that have harmful chemicals like Lanolin, BHT, Mercury, Paraben and BHA which can bring health problems in future e.g. skin cancer.
Types of Olive Oils Available
Because there are different types of olive oil, you need to beware that not all olive oils are similar, so finding the one with numerous beauty benefit to your skin is helpful.
Here are the types:
Certified Organic Extra Virgin Oil for Skin Whitening
Usually yellow color Extra Virgin Oil is of the highest quality among the other types. It's unrefined; thus it contains the most antioxidant, nutrients, minerals and vitamins found in olives. It only undergoes first pressing which is done without heat "cold pressing." Because of its quality, plus its minimal level of acidity at 0.8%, Extra Virgin Oil is most expensive and the best for skin and face lightening compared to the other types.
Virgin Oil
It's still unrefined but has come from the secondary pressing. Its acidity levels are a bit higher than for Extra Virgin Oil, but it still has some of the nutrients and vitamins, although they are less than of Extra Virgin Oil.
Pure Oil
The olive oil has been extracted with the use of heat or chemical, so it's refined.  The end product lacks some of the nutrients, anti-inflammatory properties, vitamins, and antioxidants. Falls below virgin oil regarding qualities it offers the skin; some will say it's only suitable for cooking.
Extra Light Olive Oil
Undergoes a lot of processing thus it loses most of its good traits that make if excellent for skin care. Hence, it's not advisable to use this type of olive oil. Although if necessary use it on hair and sometimes skin.
Benefits of Olive Oil for Skin Whitening
When used as a skin lightener Olive oil has plenty of properties that make it possible for you to have a glowing natural skin. These features come up with different benefits for the skin some like vitamins and antioxidant help heal and revitalize skin; you would want lightened skin with unevenly damaged skin. Thus when you apply it on your skin and face you will see lighter and brighter skin within days.
Here are the benefits of olive oil for your skin to make it all brightened and glowed:
Antioxidant
Olive oil contains Vitamin E, Phytosterols, Avenasterols and Polyphenols which are primary antioxidants; meaning that when the oil is applied on your skin or face it protects your skin from premature aging and restores skin smoothness. There is also Hydroxytyrosol which prevents your skin from free radical damage. All this factors olive does promote skin lightening.
UV ray protection
Some of its antioxidant properties, Vitamins A and Vitamin E help protect the body from UV rays and radiation, hence, protecting the skin from damage.
Benefits as an Exfoliator
Accumulated dead skin has a different and darker color than your normal skin making your skin dull than usual. You can use olive oil to scrub and remove the scaly dead skin from the face and skin. This increases cellular turnover bringing about lightened skin. The ingredients that help with this are polyphenols, Vitamin E, and flavonoids.
Remember scrubbing should be gentle to avoid skin damage while removing dirt and dead skin
Moisturizer
It hydrates the skin without clogging pores by penetrating deep into your skin thus keeping your skin from drying even during the winter. It also helps to regulate essential oil production by the skin; leaving you with a smooth,  glowing and supple skin.
Cures Whiteheads and Blackheads
Olive oil homemade facial wash helps get rid of whiteheads and blackheads. If you do regular massage using extra virgin oil on your face and constantly rubbing, the whiteheads and blackheads will be pushed from the pores. Hence getting rid of pimples, marks, black spot, or scars from your face.
Olive Oil to get rid of Hyperpigmentation and Dark Circles
Minerals and vitamins help improve the skin texture and complexion; especially a mixture of lemon and olive oil makes up an excellent cream for improving skin pigmentation to have a lighter complexion and texture.
Nutrients found in the olive oil also help Improve skin tone and elasticity
All these properties and benefits contribute to a lightened and gorgeous skin, the reason why all are important because they add up to bring better results.
The thing about homemade mixtures/remedies is that they help add properties that olive oil lacks in, making it a better skin lightener i.e. all things added should be organic or natural but some people like using olive oil to dilute the effects of skin lightening products made from inorganic chemicals.
Use olive oil to gently clean the sensitive skin under the eyes. It rejuvenates skin and diminishes dark circles.
How to use Olive Oil for Skin Whitening
There are several ways in which you can use olive to better the chances of lightening your skin they usually include frequent use of the product.
You can use it as a Makeup Remover because it gets rid the makeup gently as it nourishes the skin. Just apply a little oil on a piece of cloth or cotton pad and rub the makeup of gently.
Facial Wash- When used as facial wash it helps a lot with blackheads and whiteheads. Just use a small amount of oil by dabbing it with a cotton pad and rub it on your face gently in a circular motion till you fill that you have covered your whole face.
To make an Olive Oil Bath add 5 Tablespoons of olive oil to your bath. Make sure to dry off excessive oil after taking an Olive oil bath.
Use a Facial Mask made of olive oil. After using your mask, your skin will be more radiant and bright.
Remember because Olive oil is all organic and natural you can use it as often as you like in your day to day life. It increases the possibility for a quicker rejuvenated, nourished and protected brighter skin and ensures your skin stays that way.
How to use Olive Oil for Skin Fairness- Recipes
Considered as one of the best natural organic product that is beneficial for skin. It helps provide a glow to your skin on its own, but there are other ingredients it can be mixed with it to bring better and faster results.
Here are the recipes:
Olive Oil and Cucumber Face Mask
Ingredients:
One teaspoon olive oil
A teaspoon of milk
One ground cucumber
Procedure:
Mix the three together to get a smooth paste
Then apply on your face
After twenty minutes are over wash it off with warm water and dry with towel
Do this at list four a week for glowing skin
Olive Oil and Lemon Juice for Skin Whitening
Ingredients:
Two teaspoons of olive oil
½ tablespoon of lime juice
Procedure:
Mix the two to get a smooth paste
Then apply to your face wait for 15 minutes
Watch it off with warm water and dry with towel
Do this at list three times a week to get lightened skin
Olive oil night cream
Ingredients
½ cup olive oil
A quarter cup water
¼ cup vinegar
Procedure
Mix the three to get a smooth paste
Apply it on your face or body skin
Leave it overnight
Wash off with warm water and dry off with tower
Olive Oil, Egg White, and Lemon Juice
Ingredients:
A teaspoon of olive oil
½ a cup of cooked oatmeal
Two or three drops of lemon juice
One egg white
Procedure:
Mix all the ingredients at once to get a smooth paste
Apply it on your face gently
Wait for 25 – 30 minutes then rinse off with warm water and dry with towel
Do this thrice a week
Recipe for Hyperpigmentation
Ingredients
One tablespoon of olive oil
A tablespoon of oat flakes
One tablespoon of milk
Procedure
Mix the three to get a smooth paste
Apply it on your face or body skin
Leave for 15 t0 20 minutes
Do this when you close to go out on a sunny day mostly during the summer
Olive Oil, Lemon Juice, and Glycerin
Ingredients
½ tablespoon olive oil
½ tablespoon glycerin
Two or three drops of lemon juice
Procedure
Mix the three to get a smooth paste
Apply it on your face or body skin
Leave for 10-12 minutes
Wash off with warm water and dry off with tower
It's good for maintaining your glow and exfoliating your skin
Sugar and Olive Oil for Skin Glow
Ingredients:
Extra virgin Olive oil
One tablespoon of sugar
Procedure:
Apply some of the extra virgin oil on your facial skin
After that scrub your face with
Wash off with warm water and dry off with tower
Olive Oil Dangers on Skin- Side Effects
There is no doubt that olive oil is one of the best natural skin care treats in the world. It has significant health benefits for the skin, hair and general body health. It is as important for you to know that the use of olive oil for skin whitening has its drawbacks. Here is more on the possible side effects and dangers of using olive oil for skin:
Can be allergenic
Causes skin rash
Cannot be used on baby's skin
It is not suitable for dry skin types
Can cause acne breakouts
 Where Can I Buy Olive Oil and How Much Does It Cost
You can get olive oil online or from your nearest local store e.g. Wall-Mart
Cost is $19 Extra Virgin Olive Oil, for 101 oz.
Remember the olive oil is Extra Virgin oil if you better and quicker results.
Check Out more uses of Olive Oil for Skin: