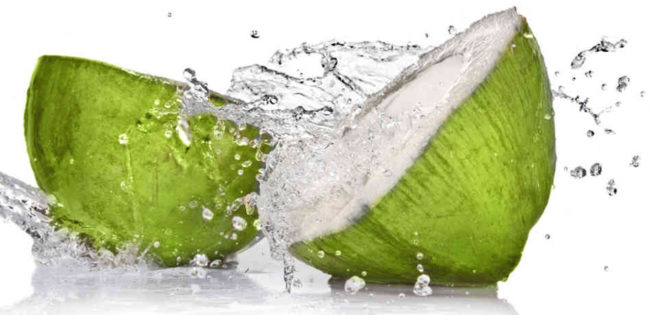 In recent times, the use of coconut water for skin has become increasingly popular. And all for the good reasons. It is one of those remedies that can be effectively used for fairer healthier skin. Here are endless ways to incorporate this rich natural skincare remedy into your beauty regime.
Is Coconut Water good for Skin?
Coconut water should not be confused with coconut oil or coconut meat (the white fleshy part of a mature coconut). Coconut water is a clear liquid found in young green coconuts. These contain most water and are harvested at 5-7 months of age. As the coconut ages, the water is replaced with white fleshy 'meat'.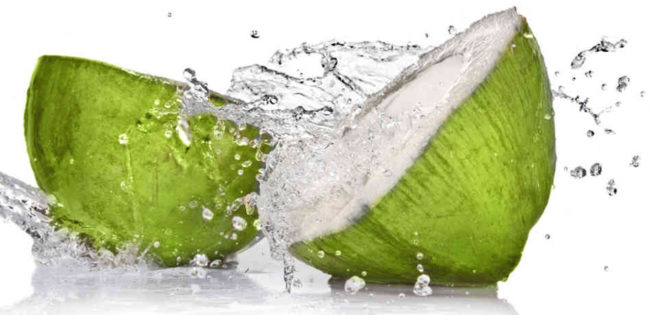 The fact that it is rich nutrients and electrolytes making it a good for external application as well as drinking. It has been used as an age old remedy for a number of skin problems. In the recent times, its use for skin has gained popularity with praises all over the internet on its health benefits for skin. Celebrities such as Emma Watson and Anne Hathaway with great skin have given credit to coconut water.
Coconut Water is commonly known as Kobbari Bondam Neeru in Telugu, and Nariyal pani in Hindi and Urdu.
Benefits of Coconut Water for Skin
The benefits of coconut water for skin are inexhaustible. While you can think of it as a refreshing summer drink, you are going to love it even more on your skin. It is rich, it's nutritious and revitalizing for your skin. Here is more on the benefits of coconut water for skin.
Skin Whitening
Coconut water has natural skin whitening properties. Use it to remove blemishes such as acne scars for flawless skin. Most home remedies for skin whitening do not offer desired results. Coconut water is one of the most effective natural remedies that offer a variety of benefits for your skin.
Use it on dark skin to renew skin and even out tone. You can also use it on fair skin to brighten skin and promote flawless complexion.
Skin Pigmentation
Coconut water boost blood circulation to the skin. This allows the skin to breathe and get sufficient nutrients. It also allows the skin to get rid of toxins which would otherwise make it appear dull with patches of dark skin. Use coconut water to remove sun tan and protect the skin from after effects of sun burns.
Coconut water is rich in vitamin C that is known to effectively remove pigmentation.
Coconut Water for Acne and Acne Scars
Use coconut water face masks to rid your skin of blemishes such as acne scars, pimple marks and chicken pox scars. It also has proteins called cytokines which aid in faster healing and regeneration of damaged cells. Cytokines encourage the movement of healthy cells to areas of inflammation, infection and trauma.
Coconut oil cleanses skin to lift deep seated dirt. It opens up clogged skin pores with oil, makeup and dead skin cells.
Simply dab coconut water on affected areas and leave it overnight to fade scars.
Anti- aging
With age, skin to lose elasticity, become dry with dark spots. Coconut water is rich Coconut water has Lauric acid promotes and regulate cell growth. Application of coconut water externally and its consumption internally help to remove dark spots, wrinkles and fine lines. Use a combination of coconut water and yogurt to gently exfoliate and moisturize aging skin.
Skin Conditions and Sensitive Skin
Other than for skin nourishment, coconut water is a natural anti-viral, anti-bacterial and anti-fungal. Use it to kill organisms such as bacteria which cause acne and skin conditions such as rash. The fact that coconut oil is natural and sterile makes it ideal for use on the most sensitive skins.
Note: Coconut is hypoallergenic. However, people with tree nut allergies should use them with caution. Consult your doctor if you have any doubts.
How to Use Coconut Water for Skin Care- Recipes
Coconut water for skin is the fact that it can be used internally and externally. Even manufacturers have gone an extra notch in utilizing the benefits of coconut water by making it a primary ingredient in their products. How about incorporating something as simple as coconut water into your beauty regime for flawless skin? Do you know what's even more awesome, IT IS NATURAL!
Coconut Water Skin Brightening Face Mask
Mix ½ a teaspoon each of turmeric powder and red sandalwood
Add in some coconut water to make a paste
Use this mask on your skin three times a week
Add a few drops of lemon to remove pesky blemishes.
Use this clarifying mask every day for clear glowing skin.
Coconut water face pack for pigmentation
Mix a tablespoon of fuller's earth and one and half tablespoons of coconut water to make a paste
Apply the paste to areas of pigmentation
Allow it 15 minutes
Rinse off with cold water
Coconut Water Anti-aging Mask
Mix 1 tablespoon of coconut water and 2 tablespoons of plain yogurt
Apply the mixture on your face and leave it on for 15 minutes
Wash off with cold water
Use this twice a week for young looking skin
Coconut Water Pack for Acne
Mix ½ cup coconut water and a teaspoon of manuka honey
Use a cotton ball to gently apply the mixture on your face
Allow it 10 minutes
Wipe off with a clean cloth
Drinking Coconut Water for Skin
Drinking coconut water helps to flush out toxins. It cleanses your skin inside out for a younger healthier skin. It is rich in nutrients that will enrich your skin to a vibrant new form.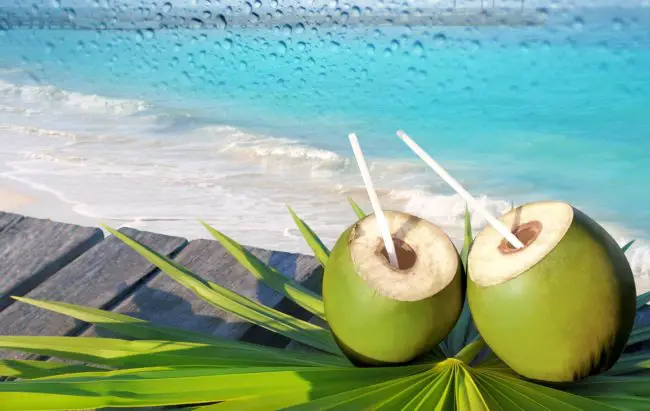 Coconut water is rich in vitamins and essential minerals. Drink the water to replenish lost fluids and minerals during physical activity. A number of companies have come up with coconut water sports drinks. You will love the flavor.
Can pregnant women drink coconut water? While there are no known side effects of drinking coconut water in pregnancy, it is best to consult a doctor on the same. FUN FACT: In some countries, it is believed that drinking coconut water during pregnancy is beneficial for the unborn child. These women believe that drinking coconut water helps to improve the baby's complexion.
Skin Toner
Combine coconut water with pineapple juice to make a toner. Use this as a remedy to get rid of stubborn blackheads. It smoothens your skin and gives an amazing Oil balance.
Coconut Water for Skin- Products
Face Wipes
Pacifica Purify Coconut Water Cleansing Wipes
Sephora Collection Coconut Water Cleansing and Exfoliating Wipes
Mist/ Spray
Herbivore Rose Hibiscus Coconut Water Hydrating Face Mist
Pearlessence Coconut Water Face Mist
Moisturizer/ Face Cream
Joey Ney York Quick Results Keep it UP Serum
Body Wash
Dial Coconut Water and Bamboo Leaf Extract Body Wash
Powder
Navitals Naturals Organic Coconut Water Powder
Aloha Coconut Water Powder
Cocopure Coconut Water Powder
Face Wash/ Cleanser
Coconut Water Sensitive Skin Cleanser by Anne Webb
Andalou Coconut Water Firming Cleanser
Side Effects of Using Coconut Water for Skin
Coconut water is generally safe for use on skin. Save for the people with allergies to coconuts. It is natural and safe. Consult your doctor before drinking coconut water if you are a diabetic or have high blood pressure.