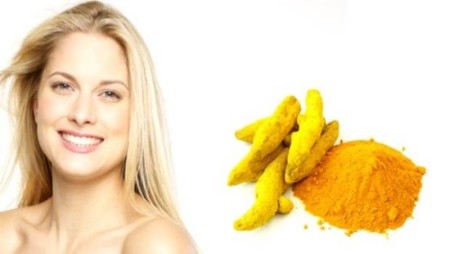 Does turmeric lighten skin tone and remove dark pigmentation due to acne scars, suntan and aging? Turmeric a very common spice used widely in Asia is also used in various beauty regimens to get rid of dark pigmentation and heal different skin problems. Below is more on how to use Turmeric to whiten skin tone. Find different turmeric skin whitening recipes to get rid of acne spots, dark patches and sun tan.
Does Turmeric Really Lighten Skin Hyper-pigmentation?
Does turmeric really lighten skin Hyper-pigmentation? Hyper pigmentation occurs due to excessive production of melanin which causes unbalanced skin complexion due to dark patches. Excessive production of melanin is caused by several factor such as hormonal change in the body, exposure to excess sun, burning, contact with harmful chemicals, skin infection, irritation and skin injury etc.
Turmeric is the most natural remedy used to lighten dark skin and get rid of dark spots effectively without any side effects. It contains a component called curcumin which is a powerful anti-inflammatory and an antioxidant which plays a big role in reducing excess production of melanin (a substance that gives the dark skin complexion) and replaces your unclear skin to beautiful and glowing skin. Turmeric also has lower cholesterol, possess anti-bacterial properties and treats acne.
To this point we can say that turmeric is the most effective more suitable way to lighten hyper pigmentation because it is a natural remedy, inexpensive and easy to use.
How Does Turmeric Lighten Skin
How does turmeric lighten skin? Curcumin richly found in turmeric regulates the production of melanin that is responsible for giving the skin the dark color, dark spots, uneven skin patches and acne scar. This gives you an even tone complexion, leaves your skin brighter and rejuvenated.  Turmeric is a natural remedy that is free from side effect and is good for the skin. Turmeric moisturizes the skin unlike lemon whose acidity nature may result to a dry and rough skin.
Turmeric being an antioxidant it performs the cleansing function by removing toxins from the body. By doing this the skin is allowed to perform well and therefore melanin production regulated in the body.
Is turmeric good for Skin Lightening?
Is turmeric good for the skin lightening? The skin is so sensitive and one needs to be careful in whatever comes in contact with it and some lightening remedies may be harsh to you skin. In regard to skin lightening, turmeric does not really pose any danger to the skin. It is also important to note that turmeric skin lightening results may not be as permanent and you need to use the remedy regularly to maintain the results.
Well apart from turmeric for skin lightening remedy it also possesses some factors that will benefit your skin and giving you a flawless skin. Turmeric contains curcumin which is around 3% present. This makes turmeric to work efficiently without any side effect and lightens permanently.
It is a very strong antioxidant, antibacterial properties and a powerful anti-inflammatory that are very beneficial to the skin. Turmeric powder mixed with other remedies heals several skin ailments without side effects giving you a complexion that is even and beautiful.
The anti-bacterial aspect of it aids in the healing small cuts and burns also to keep bacterial infection away. This will make your skin to be health and fresh. Turmeric also act as a natural antiseptic soothing the skin. When turmeric is mixed with milk it treats the skin and prevents it from various skin ailments and keeps it moisturized.
Turmeric to Lighten Skin and Anti-Aging
Turmeric is the most natural remedy used to lighten the skin and remove blemishes. This is made possible because it contains a component called curcumin which cuts down on the excess melanin production that is responsible for the dark color and the uneven patches. Being antioxidant turmeric mixed with other ingredient is used to attain a smooth young looking skin as a result acting as an Anti-Aging remedy. This will as a result improve the skin elasticity.
Turmeric assists in the removal of dead cells. When used regularly it can do away with dead cells resulting to a glowing and blemish free skin.
Turmeric is used to reduce the growth of facial hair encouraging the hair to fall off naturally.
Does Turmeric Whiten Skin Pigmentation, Dark Patches?
Does turmeric whiten skin dark spots and acne, pigmentation or dark patches? Well we are going to learn that in a while.
Most teenagers and some adult suffer from dark spots and acne scars, the good news is that there is a solution right in your kitchen. Acne scars come as a result of excessive or insufficient production of collagen that is supposed to repair the damage caused by acne. Turmeric is effective in the treatment of acne scar or dark spots because it is natural remedy this free from side effects and it is easily available. Turmeric made into a paste and applied in the areas having acne, it can work effectively by destroying the bacteria that causes acne and moderates the skin oil.
Sometimes the skin may be infected due to squeezing of the pimple, turmeric will serve as an antiseptic soothing your skin and leave it fresh.
Turmeric whitens skin pigmentation due to the component called curcumin that cuts down excessive production of melanin that causes uneven color or dark patches. curcumin is also helps in to prevent dark spots and discoloration patches and whiten them after they occur.
Turmeric for Dark Spots and Acne Scars
Turmeric mixed with other remedies such as lemon and honey will work perfectly. This is because lemon bleaches, tightens large pores and cleanses the skin while honey moisturizes and kills germs while turmeric prevents discoloration.
How to Use Turmeric to Lighten Dark Spots and Scars
Mix 1 tablespoon of honey with a half teaspoon lime juice and a pinch of turmeric powder to make a paste that you will use as a mask
Use clean plastic gloves to apply so as to avoid staining your nails. Apply the mixture evenly on your skin.
Let it dry then you can wash it off using plain pure water (lukewarm)
Another procedure that gets rid of pimples is mixing raw turmeric and milk, apply it evenly on the affected since other individual experience pimples in the chest or the back apart from the face. Let it settle for 15- 20 minutes. Wash it off with plain clean water. When this is used regularly best and fast results are achieved
Does Turmeric and Lemon Lighten Skin?
When lemon is mixed with turmeric they result to a powerful whitening remedy that is natural. This two remedies work well together because turmeric heightens the skin lightening property of lemon without drying your skin and also masks the stinging effect of lemon juice. This mixture can perform various functions to the skin which include acne treatment, removal of dark spots and giving the skin its normal shade after it has been sun tanned.
Can Turmeric Lighten Skin Tone and Whiten Dark Underarms?
Can turmeric lighten skin tone and whiten dark underarm? Many people are victims to of this coloration. Skin coloration in the underarm may be caused by exposure to certain conditions or products for example sweating, shaving, some deodorants and dead skin.
Turmeric mixed with lemon juice is a suitable bleach for removing the dark discoloration in the underarm. Mix 5ml lemon juice with a pinch of turmeric powder. Apply the blend on your underarm and allow it to be there for at least 15 minutes then rinse it off. When it is used frequently the result are fast and no side effect.
Another remedy for dark underarm turmeric mixed with cucumber and lemon. This three remedies complement each other very well. Lemon bleaches your skin, cucumber soothes the skin from irritation that may have been caused by the acidity of the lemon and turmeric prevents discoloration. Squeeze cucumber juice (5ml) mix it with an equal portion of lemon juice then add a pinch of turmeric powder to the mixture.  Apply the paste on your underarm and let it sit in for 20 – 25 minutes then rinse it off. Do this every day to achieve fast results.
How to Use Turmeric to Lighten Skin
To this point we have already known that turmeric can be used as a skin whitening agent, an antioxidant, anti-inflammatory among other functions. Now we are going to tackle how to use turmeric to lighten skin.
Turmeric also known as haldi can be used as a whitening remedy, takes away blemishes and pigmentation from your skin. Curcumin a component that is present in turmeric which regulates the production of excess melanin and the antioxidance nature of turmeric assists in keeping the skin away from toxins.
How to Use Turmeric for Skin Whitening and Pigmentation
Mix lemon juice 15 ml with turmeric powder 5ml to make a thick paste
Apply it in the affected area or area of interest evenly
Let it sit on for 15 – 25 minutes
Rinse it off with plain pure water
Do this every day to achieve fast and best results
How to use Turmeric to Lighten Suntanned Skin
Mix 2 teaspoon of sandalwood powder,2 teaspoons of milk , 1 teaspoon of lemon juice and a half teaspoon of turmeric
Apply this to your clean and dry affected area evenly
Let it dry then rinse it off using plain water
If this is done every day the result will be a beautiful and clear complexion
So if you are wondering what will remove that sunburn that is making you uncomfortable or acne and acne scars or dark spots or you may want to lighten your skin and any other skin problems or ailments that may be troubling you, the answer is just in your kitchen. Turmeric is very effective and free from side effect apart from it being natural and cheap as opposed to other cosmetics.
Side Effects of Turmeric
Turmeric also has its side effects. For example it is a natural dye and may stain your beddings, clothes nails and anything that it comes in contact with. When your nails get stained it doesn't completely wash off so gloves can be used to avoid this.
Turmeric may stain your skin yellow. Use a sugar face scrub and the yellow color will disappear
Pregnant women also need to consult their doctors before they use turmeric.
Turmeric is harmless when taken or applied to the skin appropriately for a maximum of eight months.
Some individuals may suffer from stomach upset, diarrhea or nausea when they consume turmeric.