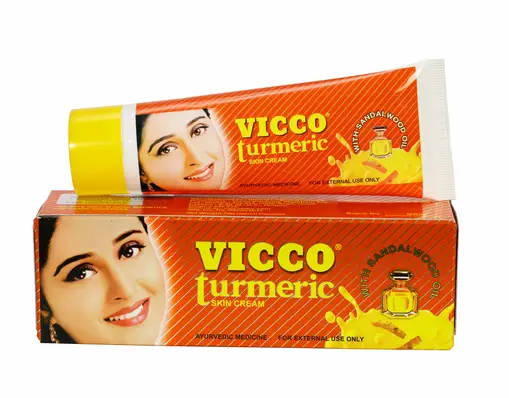 Is Vicco turmeric skin cream good for skin? What are the benefits of Vicco turmeric skin cream for dry skin or oily acne prone skin? Before we go into the details of the benefits of this wonderful product, what is Vicco turmeric skin cream? This is an ayurvedic cream with a combination of pure turmeric and other products such as sandalwood oil. A trusted Indian product with a variety of benefits for the skin giving you a radiant, soft and blemish free skin. Here is more on Vicco turmeric skin cream and how to use it for dry skin, acne and skin pigmentation. You can also learn more about its ingredients with results and ratings from various [easyazon_link identifier="B0107W477M" locale="US" tag="skincareorg18-20″]user reviews on Amazon[/easyazon_link]
Vicco Turmeric Ayurvedic Cream
Vicco turmeric cream is an ayurvedic cream that has been on the market for quite a while now. It is a balanced combination of turmeric and sandalwood oil. This cream rejuvenates your skin leaving it soft with a youthful glow. It has all the natural goodness that comes from turmeric's wide range of benefits for the skin.
Turmeric is a rich natural supplement with a whole lot of benefits for the skin and body in general. It has been in use in India for a centuries to add flavor to food and achieve healthy flawless skin. Turmeric has a potent antioxidant curcumin which protects the skin from harmful free radicals which cause aging. It also cures inflammation by soothing irritation and regulating the production of sebum.
Vicco turmeric skin cream is made from a combination of the antioxidant properties of turmeric and fragrant soothing properties of sandalwood oil.
Vicco Turmeric Skin Cream with Sandalwood Oil
Vicco turmeric skin cream with sandalwood oil prevents and cures skin problems such as inflammation, acne and blemishes. It nourishes and improves your skin to a fair and beautiful tone. The combined goodness of turmeric powder which prevents penetration of harmful UV rays, maintaining the original color and sandalwood powder which adds a cooling element to the skin.
Sandalwood is an aromatic plant known for its soothing and cooling essential oil. It is a natural antiseptic and anti-inflammatory agent ideal for skin irritation and other skin conditions such as acne and rashes. Turmeric on the other hand as described above is a potent antioxidant that protects and nourishes the skin. When these two are combined together, they act as antimicrobial agents that work against acne, zits and any kinds of blemishes. They are also known to remove tan and give your skin radiance.
Turmeric and sandalwood pack
If you are not able to buy Vicco turmeric skin cream with sandalwood oil, here is how you can make a pack using the basic ingredients.
Mix 1 tablespoon of sandalwood powder and ½ a tablespoon of turmeric powder in a bowl
Add 2-3 tablespoons of honey and mix well to get a nice fragrant paste
Apply to your face, neck or any part of the skin
Leave it on for about 20 minutes and rinse off
Do this every other day until you achieve desired results
Benefits of turmeric skin cream with sandalwood oil include:
Evens out skin tone by removing blemishes
Prevents and cures acne and pimples
It is a good antiseptic and can be used to cuts, nicks and burns
It brightens the skin
Protects the skin from harmful UV rays
Leaves your skin soft and youthful
Vicco Turmeric WSO Skin Cream Review
Vicco turmeric WSO skin Cream contains 16% turmeric extract. This ensures that you get the maximum benefits of high levels turmeric. This cream does not contains sandalwood oil and that is why it is called WSO meaning Without Sandalwood Oil.
Due to the high levels of turmeric, this cream has a rich yellow color and does not have the rich aroma of sandalwood oil. Vicco turmeric WSO skin cream is excellent in treatment of rashes and reduction of acne giving you blemish free skin. Here is a short review of this cream and you can also check out the [easyazon_link identifier="B00UCEFD74″ locale="US" tag="skincareorg18-20″]ratings and user reviews on Amazon[/easyazon_link]
Pros
It is not greasy in nature making it perfect for oily acne prone skin
It has no side effects
Improves and brightens skin tone
Prevents and cures acne and rashes
It can be used to remove facial hairs
Available at local stores
No white caste
Has a matte finish
Good for burns, cuts and wounds
Cons
May not be suitable for all skin types
It is a bit costly. Retail price is around USD 7.50
Using it heavily may make your skin oily
It is not suitable for dry skin
The fragrance may be strong for some people
No SPF
Rating: 4/5 stars
How to Use Vicco Turmeric Skin Cream
Vicco turmeric cream is excellent and has been used to fade off skin blemishes and even out skin tone. It is also an anti-inflammatory and antimicrobial agent that protects the skin from infections and irritation. It is important to note however that Vicco turmeric is should not be used in place of all other facial procedures such as cleansing, scrubbing and protecting from the sun with SPF. Here is how to use Vicco turmeric skin cream
For Cuts and Wounds
Vicco turmeric skin cream acts as a disinfectant and antiseptic that can be used on small cuts and wounds. Cleanse the area before using this cream. Note that, you should not use this cream if you in any way allergic to turmeric.
Vicco Turmeric Cream for Acne
Is Vicco turmeric skin cream comedogenic? Does it work for acne scars and marks? It is important to note the both the original and the WSO version of Vicco Turmeric Cream have an unknown oil base that may be comedogenic. While it is true that turmeric has healing agents that are great for treating acne, the oil base may not be suitable for acne prone skin types. Even with the many positive reviews about it, it is advisable to not use this cream if your skin is prone to break outs.
Vicco Turmeric Skin Cream for Pigmentation and Dark Spots
Vicco turmeric cream has the goodness of turmeric which is very effective in treatment of scars and pigmented skin. It is all natural and does not cause any side effects to the skin.  Using it regularly helps to get rid of scar marks, acne spots and pigmentation for an even and smooth skin. It is non greasy, making it perfect for those with normal to oily skin types. There have been reports of people who used this cream and ended up with acne.
Vicco Turmeric Skin Cream for Men
Can men use Vicco turmeric cream? Men can also comfortably use Vicco turmeric skin cream for the same reasons as women do. There however may be a concern of yellowish staining on the skin. If this is a concern for you, you can use the cream at night and wash off in the morning.
Vicco Turmeric Cream for Dry Skin
Is Vicco turmeric cream good for dry skin? This cream is non greasy in nature and is therefore not recommended for those with dry or sensitive skin types. It tends to dry and stretch out the skin. You may also realize that the cream might be a bit drying during the winters. Even those with oily skin types may find it necessary to moisturize their skin during winters to prevent their skin from drying out. Those with sensitive skin types may react to the turmeric or cream base present in Vicco turmeric cream.
If you have dry skin, you can pair the cream up with good moisturizer or body lotion depending on where you are applying the cream. For those with very oily skin types, you may need to do some touch ups every few hours to avoid having a shiny greasy face around your T-zone.
How to Apply Vicco Turmeric Skin Cream
Vicco turmeric cream can be used on the face for a number of reasons; remove pigmentation, get rid of dark spots, cure acne, cuts and wounds and even out skin tone. Regular use of this cream will help you fade off dark spots.
How to Use Vicco Turmeric Skin Cream on Face
Cleanse your face with water and mild soap and pat dry
Massage the cream evenly and extensively on your face getting rid of any yellow lines
Do this daily to get the best results
Note that the best time to apply this cream is at night before you go to bed. It is not advisable to use vicco turmeric cream during the day without sunscreen as the turmeric makes your skin more sensitive to the sun. It may take a while before you begin to notice any results.
Alternatively, you can use the cream as a spot treatment for pimples. Just dab a small amount onto the pimple and leave it overnight.
Vicco Turmeric Skin Cream Ingredients
The main ingredients in this cream are turmeric at a high concentration of 16%, 1.2% sandalwood oil in an unknown oil base. Depending on the type it may have sandalwood oil or not. It has a high concentration of turmeric at 16%. Both turmeric and sandalwood oil have exceptional properties that nourish the skin and give you a radiant even toned skin. Other ingredients include:
Stearic acid 15%
Sorbitol 3%
Sodium hydroxide 0.07%
Propyl paraben sodium 0.05%
Water
Vicco Turmeric Skin Cream Results
Many people have found great benefits using this cream and we think you will too. You can buy [easyazon_link identifier="B0107W477M" locale="US" tag="skincareorg18-20″]Vicco turmeric skin cream[/easyazon_link] and [easyazon_link identifier="B00UCEFD74″ locale="US" tag="skincareorg18-20″]Vicco turmeric WSO skin cream[/easyazon_link] from Amazon in most countries. If you decide to try it out please let us know how you get on in the comments section below.