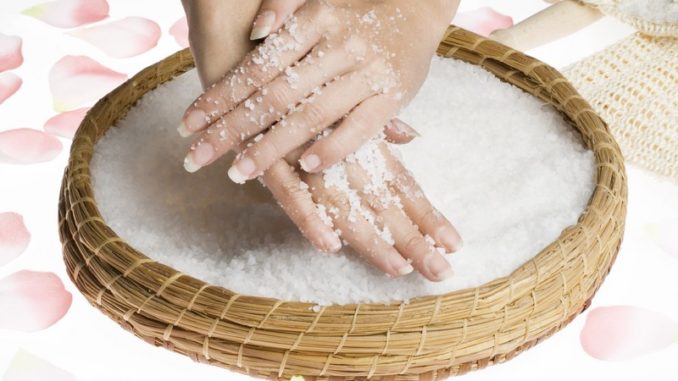 Sea salt is an excellent natural treatment that offers relief for skin disorders like psoriasis, eczema, and acne.The unique combination of therapeutic elements like magnesium, iodine, and potassium improve the skin and make future recurrences of psoriasis less severe. Here is more on how to use sea salt for psoriasis.
What Is Psoriasis and Why Use Dead Sea Salt
Psoriasis is an inherited condition that causes raised, scaly, red patches on the skin and is believed to be brought on by overtime T-cells that attack the skin triggering excess production of the new cell thus leading to a buildup of skin cells and eventually causing (scaling and redness)Psoriasis. And although psoriasis is incurable, it reacts well to confined and systemic treatments
Medication can reduce Psoriasis severity; however, the drugs can bring about side effects like stinging, headaches and nausea, a reason why it's good to use Dead Sea salt as an alternative to control and reduce psoriasis. In the next topic, you see what Dead Sea salt brings to the table.
Benefits of Dead Sea salt for Psoriasis
Any sea salt brings lots of benefits to human skin. Thus the same applies to Dead Sea salt which has a unique effect in treating psoriasis. The abundant natural compounds of Dead Sea salt are suitable for prevention and treatment of a variety of skin diseases. And with plenty of combination of, therapeutic elements in Dead Sea salt, it not surprising that each or a combination of some play an essential role in supporting, retaining healthy skin and helping reduce psoriasis symptoms.
Dead Sea salt creates and hostile environment for bacteria or fungi. Both the two infection play a significant role in psoriasis build up.
Maintaining moisture is also essential in preventing and treating of psoriasis. Thus the magnesium Calcium, Sodium, and potassium are useful for supporting or boosting moisture in the skin; this will help relieve you of itchiness and redness of the skin.
The salt also improves blood circulation thus helping maintain optimum pH, making sure the skin-surface get the necessary nutrients and also infuses fresh oxygen through the skin cells. All this help with issues like inflammation and assist with skin regeneration etc.
The silicon element in dead sea salt help heal psoriasis by stimulating renewal of skin cells thus also supporting in making you look young
As you know now potassium helps in moisture level, but it also can promote fast tissues regeneration thus having positive effect in healing of skin cells which assist in fighting of psoriasis
Minerals such as sodium and calcium help with exfoliation which means that harmful toxin, chemical, grime, bacteria and dead cell resulting from or promoting psoriasis will be removed from the skin.
Anti-inflammatory agents like zinc and bromide will help reduce swelling, itchiness, and pain brought on by psoriasis. It also soothes your skin.
There is also sulfur which assists in the formation of new skin elasticity causing collagen fibers.
Because psoriasis bring about dry skin
Using Dead Sea salt for psoriasis
Some people like to schedule therapeutic Dead Sea salt treatment at a spa. But doing in your own home can also bring the same result and is cheaper. Here how to do it at home;
First, fill a bath with look warm water.
Use a cup or two to measure the salt and then scatter the salt in the look warm bath then use your hand to help dissolve the water by stirring the warm water.
Lay in the tub gently and let the slat mixed water cover areas of your body that affected by Psoriasis
Soak in the water for 20 minutes and then get out
Pat dry with a towel
Then apply moisturizer to your skin.
Some people add ointments or oils to the bath.
This bath not only helps with psoriasis symptoms but it also enables you to relax and eliminate insomnia which increases the risk of psoriasis symptoms developing. You can get Dead Sea salt online or from spa stores. It's advisable to buy a whole 10 kg+ bag of sea salt because you never know when it's needed. Buy 100% pure powdery Dead Sea salt like Minera Fine Grain Pure Dead Sea Salt.
When to See a Doctor
As you know, psoriasis might make you doubt yourself and lower your self-esteem. However, there are other effects or higher risks that come with psoriasis; these are illnesses like:
High blood pressure
Kidney disease
Psoriatic arthritis
Conjunctivitis
Cardiovascular disease
Type 2 diabetes
So if you get the above illness or psoriasis symptoms persist you should visit a doctor.