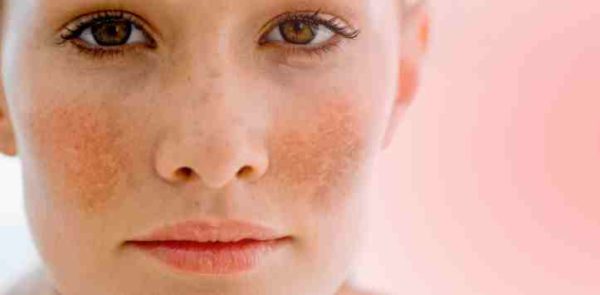 Melasma will make you feel ugly and uncomfortable. Did you know you can treat it using simple home made medications? Here are effective treatments and home remedies for melasma
What is Melasma?
The name originates from a Greek word melas which translates to English as black. Melasma, also known as chloasma, is an adult's skin condition which mainly affects the face. The skin develops gray or light to dark brown pigments.
Who Is Likely to Get Melasma?
This illness affects both men and women but is more common to women. A research done shows that 1 in 4 and 1 in 20 of victims are men.
It normally develops at the age of 20 and 40 years in many people. There are cases of melasma starting at childhood and middle age.
It is highly believed to mostly affect dark skin individuals living in sunny climate regions. Melasma can be noticed during summer and will improve in the winter period. Melasma is not communicable.
Is Melasma Genetic?
Melasma can be passed from one family generation to the other, indicating it is genetic.
Parts Affected by Melasma?
Melasma in most cases will affect the face. Many victims will have it on their forehead, cheeks, chin, above the upper lip and nasal bridge. Other parts of the body which are affected include; the neck and forearms.
What are the Causes of Melasma?
Melasma arises when melanocytes produce a lot of colors. Melanocytes are the skin cells responsible for making color. There are a number of factors that trigger melasma but the exact cause is not recognized. These factors are hormonal drugs like contraceptives and pregnancy. In some cases, medical situations influencing hormones lead to melasma. A number of cosmetics containing perfume are known to bring melasma. According to research melasma can also be caused by stress.
Melasma can be worsened by the sunshine.
Signs and Symptoms of Melasma
The common signs of melasma are light or dark gray patches on the face. They will appear on the following parts of the face:-
Chin
Cheeks
Above the upper lip
Forehead
Nasal bridge
Forearms and neck although this is rare       
In many cases, individuals suffering from melasma have no symptoms. The victims will only be uncomfortable with their skin physical appearance.
How to Diagnose Melasma
The sign of patches on skin makes melasma to be easily recognized by a dermatologist. To exclude other diagnoses, the dermatologist will propose a small skin sample that is skin biopsy. A skin biopsy can be executed in the dermatologist's office. This helps in excluding other skin conditions which resemble melasma.
Home Remedies for Melasma
The following are some home remedies for melasma:-
Apricot Kernel Oil
The oil is obtained from seeds of Apricots fruits. You apply the oil to the patches on your face or neck. It will nourish the skin, improve the look, soothe the inflammation and heal melasma.
The oil is rich in fatty acids and vitamins which help cure melasma.
Lemon Juice for Melasma and Age Spots
It is the best-known home remedy for treating melasma. The juice has a natural acid and vitamin C which peels of the outer skin to improve discoloration.
You are required to apply the juice on affected areas, massage and leave it for 10 to 15 minutes. Rinse the skin using lukewarm water.
Repeat this procedure daily until the patches disappear.
It is important to note that:-
The juice can cause side effects if used for more than 20 minutes
People with sensitive skins should opt for other home remedies
Oatmeal
Mix honey and crushed oatmeal to form a paste. Spread it on the affected parts of the skin and leave it for 30 minutes. Rinse the skin using warm water. The paste dissolves the dead skin cells and acts as a natural exfoliator.
Avocado and Honey Pack
Mix honey with mashed avocado to prepare a paste. Apply the paste on your face and wash it after some time.
Natural honey contains bleaching properties. Avocado is rich in fatty acids, oleic acid and vitamin C. These properties of avocado rejuvenate and heal the skin
Yucca Root
Yucca root contains saponin which helps in restoring the skin cells. It is rich in laxative and anti-inflammatory properties.  Boil the yucca roots and apply it on the skin.
Basil leaves
Extract the juice from the leaves by crushing them. Form a paste by adding some camphor powder. Apply the paste on the affected part of the skin and wash it when it dries up.
Plantain Mask
Mash the plantain to make a mask. Apply the mask and leave it for 15 minutes. This remedy is recommended to be used at least four times for better results.
Mint leaves
These leaves are very significant in improving melasma. Crush fresh mint leaves to extract the juice. Apply the juice on the patches. Repeat this severally during the week for better results.
Sandalwood Powder and Rose Water
Mix rose water and sandalwood powder to make a paste.  Apply it on the affected part of the skin and leave it for 20 minutes. Using lukewarm water wash the paste off.
Use this remedy 3 to 4 times weekly for better results.
Aloe Vera Gel
Apply aloe Vera gel before going to bed and a fresh one in the morning and wash it off.
The gel will eradicate dead cells of the skin and boost new ones.
 Papaya Mask for Melasma on Face
Papaya has a wide range of uses healing melasma and skin illnesses being among them.
Mash a ripe papaya, apply the paste on your skin and leave it for 20 minutes. You can add some honey to the paste. Wash it off using cold water and apply cold cream. Repeat this twice a week.
Banana and Guava Mask
Make a paste of guava and banana, apply it and rinse after 20 minutes.
Banana exfoliates the skin and lightens up the pigments. Guava is rich in lycopene which is useful for blemish treatment.
Using the paste daily will help improve the skin condition.
 Lavender Oil and Tea Tree Oil
Prepare a mixture of tea tree oil and lavender oil. Apply it on the affected part of your skin. Repeat this at least four times a day.
Onion Juice and Apple Cider Vinegar
Mix equal volume amount of apple cider juice with a fresh onion juice.  Using a cotton wool apply on the skin. Use this mixture regularly to heal melasma.
Pine Bark
It is rich in pycnogenol and protects the skin from ultraviolet rays. Melasma patients should add at least 25 mg to food thrice a day for a month.
Horseradish
Rub slices of horseradish on the skin, wait for 20 minutes and wash it off.
It contains vitamin C responsible for bleaching the scars, skin discoloration and blemishes. It marshes damaged skin cells.
Honey and Almond Mask
A mixture of almond mask and honey helps to lighten the skin.  Add honey to crushed almonds to make a paste. Apply the paste on your face, massage gently and wash it off after 10 minutes.
Gotu Kola-Ginseng
The two herbs provide better treatment for melasma by reducing the dark patches. Make tea with equal quantity using the two herbs. Repeat the process two times in a day for better results.
Vinegar to get rid of Melasma on Face Permanently
Prepare a solution of vinegar and water in equal proportions. Apply the solution on the affect part and wash it after 5 to 10 minutes.
Castor Oil
Wet a piece of cloth or cotton with the oil. Apply it on the affected parts of your skin. Leave the oil overnight for better results.
Cocoa Butter
Apply cocoa butter on your face and massage for some minutes. It will help to minimize hyperpigmentation and also nourish your skin.
The butter has properties that help to heal the patches.
 Cucumber for Melasma on Cheeks
Apply a piece of cucumber on the patches and wash it after half an hour. Cucumber acts as a hydrant and will help keep the skin glowing. Having a cucumber in your meals will also help in the healing process.
Olive Oil
Apply the affected part with olive oil for approximately 5 minutes. Place a towel in hot water, wring out excess water and place it on the part and wait for it to cool. After it has cooled down wipe away dead skin and excess oil.
Grape Seed Extract
It contains antifungal, antibacterial and antiviral properties that purify the skin. It is also rich in minerals, vitamins, potassium, iron and calcium.  Regular application helps to heal melasma.