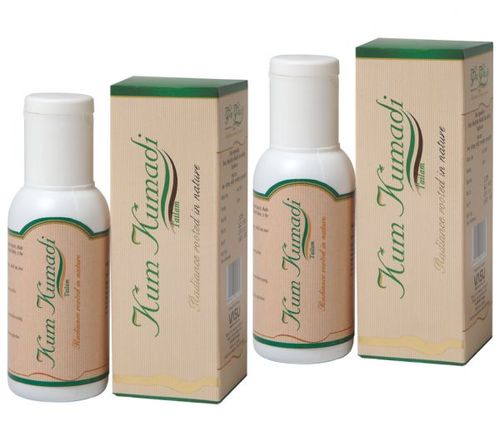 Kumkumadi tailam is an oil made from a combination of herbs and oils that are used for face massage and skin care. It is a mixture of 16 herbs and herbal oils with saffron as the main ingredient.Saffron is rich in vitamin B6 and C, magnesium, iron and potassium which improves skin texture and complexion. The oil appears pinkish in color due to the intense color of saffron.
Kumkuadi Tailam Benefits
It contains herbs such as sandalwood, turmeric, lotus, lily, vetiver, Indian trumpet flower saffron, vetiver, sacred fig, Indian madder, licorice, banyan tree blue lotus, wild Himalayan cherry, lodhra extract, manjistha extract and jasadh bhasma.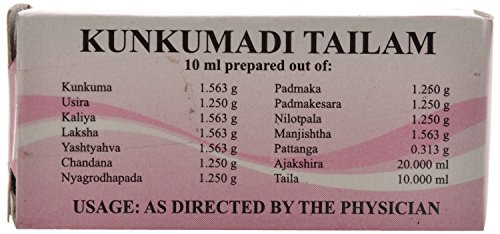 It is used on the skin for:
Kumkumadi Tailum for Fairness
Uneven skin tone is caused by skin allergy, poor exfoliation leading to dead skin cells, sun exposure and inflammation.
The oil contains saffron which has healing properties that promote blood circulation for fair skin. Patala also present is a blood purifier that helps to supply blood to all skin cells.
Wild Himalayan cherry contains compounds such as flavone glucosides that accelerate wound healing and improve skin collection.
Inflammation can cause dry, itchy skin. Goat milk present in Kumkumadi contains fatty acids that help to calm the skin and reduce inflammation.
Wood apple, patala, shalparni, uraria picta and brihati all present in Kumkumadi Tailam all have anti-inflammatory properties that help in skin toning. Gambhari present in the oil contains luteolin which is also an antioxidant.
The sesame oil present in Kumkumadi tailam as a base oil revitalizes skin cells and tissues. It contains, minerals, fatty acids, and vitamins that promote healthy cell production. The presence of vitamin E in the sesame oil gives the oil its antioxidant properties.
Contains Indian trumpet flower and sesame oil which is rich in oleic and benzoic acid. The oleic acid has moisturizing, antioxidant and anti-inflammatory properties. The benzoic acid as well as antibacterial properties that also act as an exfoliator.
Allergic reaction to medicine can cause an uneven skin tone that is filled with wounds. Blue lotus contains ginseng that helps in wound healing preventing the formation of scars. More so it has antioxidant properties that help to protect the skin from free radical damage.
Sandal wood, vetiver, lotus and banyan tree contain compounds that moisturize and fatten the skin improving the tone and complexion.
How to Use Kumkumadi Tailam for Fairness
Place a few drops of the oil on finger tips
Apply on the face in an upward direction.
Leave for 20 minutes then wash off with Luke warm water.
Alternatively, you can mix the oil with a few drops of honey to form a paste and use as a face mask.
Skin Whitening
The skin may become dark due to inflammation, allergic reaction to chemicals, over exposure to the sun and hormonal changes.
The oil contains sandalwood /chandan and berberic present in turmeric which are rich antioxidants that are effective in spots, blemishes removal thus brighten skin tone.
Carotenoids present in saffron and sacred lotus are antioxidants which on application brighten the skin color.
Contains vitamin C and isoquinoline alkaloids which have antimicrobial, antioxidant, anti-inflammatory and antibacterial properties.It also contains saffron in high levels which stimulates blood circulation and rejuvenate the skin cells thus reducing inflammation.
How to Use Kumkumadi Tailam for Skin Whitening
Apply 2-3 drops of the oil using finger tips in a circular motion
Wash off after 20 minutes.
This should be done daily for best results.
Use Kumkumadi Tailam for Dry Lips
Chapped lips result from dehydration extreme weather conditions, excess vitamin A consumption and allergic reactions to medicine, cosmetics, and toothpaste.
Kumkumadi Tailam oil contains vetiver a great moisturizer. Saffron also offers a moisturizing effect and antioxidant properties that protect the lips. The presence of turmeric brightens the lips and reduce pigmentation.
It also contains Blue lotus which is a great moisturizer.
Stretch Marks
Family history, obesity, Cushing's syndrome, pregnancy and sudden weight loss are some of the causes of stretch marks.
The oil contains sterols that promote skin elasticity and reduce inflammation present in licorice.  The presence of saffron strengthens the skin making it firmer while soothing any inflammation.
Pigmentation
It results from excess melanin production in some parts of the skin, and it's triggered by sun exposure and stress.  
The oil contains vetiver which tightens skin and a great antioxidant while moisturizing the skin.
The phytochemicals in saffron have antioxidant properties that regulate melanin production. This helps to fight hyper pigmentation or hypopigmentation in some cases.
Rich in turmeric which is a great antioxidant and skin lightener.  The presence of glabridin and licorice helps to remove the pigmentation.
Pigmentation results in the formation of spots on the face. They may also appear due to acne, age, sun damage and scars. The oil contains banyan tree and Indian madder that contains compounds that lighten the skin.
Saffron and wood apple contain antioxidants which help to shield the face from free radical damage. More so the oil contains jasadh bhasma which is a natural sun screen.
On clean face apply a few drops of the oil in an upward direction.
Rinse off after 30 minutes.
Kumkumadi Tailam for Oily Skin
The overproduction of excess oil from the sebaceous glands lead to oily skin. This is mostly due to clogging of the pores from dirt, impurities, and bacteria. It may lead to acne and subsequent scarring.
Kumkumadi Tailam contains saffron with healing properties on skin that may be affected by acne. Turmeric also helps to fight any inflammation and remove dead skin cells.
Rich in licochalcone present in licorice herb that regulates sebum production within the cells. The oil also has vetiver which has the ability to dry out excess oils from the pores thus preventing oily skin.
Laksha, one of the components' has anti-inflammatory and astringent properties that help to tighten pores and firm the skin preventing sebum leakage.
The antimicrobial properties of banyan tree help to fight off the aerobic bacteria that may block the pores.
Blue lily contains compounds that balance out oil production, inflammation and is rich in anti-microbial properties.
Licorice contains anti-microbial and antiseptic properties that destroy the bad bacteria, allow for fast wound healing and protect spot prone skin from dirt, impurities and bacteria attack.
Open and large pores allow for the leakage of sebum from the glands leading to oily skin.  Kumkumadi Tailam contains gambhari, patala and shalparni which have anti-inflammatory and astringent properties that minimize and tighten the pores.
Dark Circles
Age, sun exposure, lifestyle, swelling, stress and sleep deprivation are some of the causes of dark circles under the eyes.
The oil contains licorice which is rich in glabridin effective for removal of dark circles. Turmeric and sandalwood help to remove the dark patch and lighten the skin.
The presence of sesame oil and milk offers both a warm and cool environment under the eyes easing off any skin irritation. Sesame oil acts as a relaxer thus help to relieve muscle tension that may cause tension and dark circles.
Sacred lotus present in the oil reduces inflammation. It also contains vitamin A and pyridoxine (vitamin B) which is a stress reliever.
Place five drops of the oil on the thumb.
Rub on the dark circle under both eyes for two minutes from left to right.
Wash off after a few minutes with warm water and soap.
For best results, apply twice daily.
Anti-aging properties
Aging, genetics and excess sun exposure hasten the formation of fine lines and wrinkles, especially around the face. Kumkumadi oil contains antioxidant properties that protect the skin from sun damage. The use of goat milk as one of the combinations add more minerals to the skin cells.
Kumkumadi Tailam for Babies
Since it is made up of natural products, it can be used on babies from the age of 6 weeks. It is highly effective, and the high presence of saffron can have some effects on the babies. It, therefore, needs to be mixed with more sesame, soybean, and castor or almond oil as a base oil. For every 10ml of the Kumkumadi, 200 ml of base oil is to be used.
Uses of Kumkumadi Tailam for Babies
Treatment of eczema. In babies, this condition is often experienced. It is caused by genetics and skin condition that create large pores which cause loss of moisture and entry of germs. The skin thus becomes dry, itchy with patches.
Sandalwood is rich in cicatrizant which aids in soothe the skin and reduce itching. The presence of turmeric, sacred lotus and sandalwood provide antimicrobial, anti-inflammatory and antioxidant properties that heal the skin.
The oil mixed with other base oil is rich in emollient properties that help to lock in moisture and prevent skin rash and dryness.
The goat milk in the oil helps to cool the skin thus reducing irritation.
Eczema may cause red patches on the skin affecting the skin tone. Kumkumadi Tailam contains sandalwood and turmeric which improve ski n complexion and fairness.
The oil also contains antiseptic properties that help to fasten wound healing that may occur from scratching. This also blocks the entry of germs into the body.
Homemade Recipe for Kumkumadi Tailam
Grind or mash 48 grams of each of the 15 herbs excluding saffron and soak the powder for a few hours in 9.126 liters. Bring to a boil then simmer to remain with only 2.28 liters of the mixture. Filter this liquid.
Mix separately 12 grams of licorice, lacca, manjistha, pattanga and mahua to create a paste. Add at least 192 ml of sesame oil and 384ml of goat milk and the already filtered liquid then boil. This should reduce to an oil.
Separately create a paste from 48 grams of saffron and a few drops of rose water. Add this to paste to the already cool oil and preserve.
Side Effects of Kumkumadi Tailam
Kumkumadi tailam is made up of natural, harmless herbs. However, for some people it may cause side effects such as:
Skin reactions. The presence of different herbs may have an effect on the skin especially if one is allergic.
It can trigger excess oil production if used by persons with very oily skin due to its nature.
The oil is very thin and runny. When applied on lips it can be ingested by mistake. If ingested in excess it may constrict the uterus or cause abortion due to the presence of saffron.
Brands of Kumkumadi Tailam
Available in the market are different brands of Kumkumadi tailam that include Vasu herbals Kottakkal, Auravedic and Patanjali brand. However, there have been reviews that some of the brands are great moisturizers but are not very effective on acne and oily skin.
Integration with other oils
Kumkumadi Tailam is very oily, and though effective it can be used in combination with other oils in very small quantities which provide:
Emollient properties. Skin becomes very dry due to the loss of moisture from various conditions. This is provided by Soybean, castor, olive and sunflower oil. It helps to provide an extra oil layer on the skin allowing it to hold more water and prevent friction.
Antioxidant properties. The presence of vitamin E, acids such as oleic, linoleic, ricinoleic and erucic acid help in antioxidation. This is present in mustard and castor oil.
Groundnut oil contains compounds that help to fight acne and reduce oily skin.
Kumkumadi Tailam Review
Regarded as an all beauty solution. Used to improve skin complexion and tone. Use it for acne, scars and other common problems. It is worth trying. It is ideal for both men and women.
Price: Goes for 363 rupees on Amazon
Description: Comes in a small 10ml plastic bottle with a nozzle easy to apply in form of drops.
Pros
Natural- free of chemicals
Affordable
Removes sun tan and improves
Can be used for dark and dry lips
Cons
Unwanted effects for some people
Kumkumadi Tailam Video
Read more:
Kumkumadi Aryuvedic Brightening Face Scrub